Macarons are nothing but sandwich cookies with a meringue-based confectionery sugar made with almond flour, egg white, sugar and food coloring. The color combinations of your choice and flavors are endless for every taste bud. The treat is characterized by its smooth domed top, flat base, and cute ruffled circumference. Each bite of a macaron is crispy, creamy and chewy. Now I am gonna make Lemon Pistachio Macarons.
If you try this recipe out, please hashtag your photos with #MozisMenu on Instagram and tag me with @MozisMenu. I love seeing your takes on my recipes!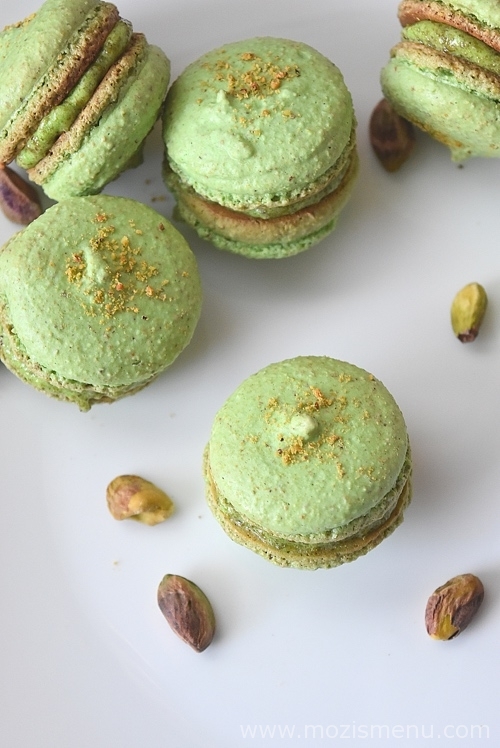 Pistachios are my favorite nuts. These Lemon Pistachio Macarons are made with a bag of pistachios and every bite has a crunchy nut and fresh lemon flavor. It's not too tangy, but just right. This one is for our evening sweet-tooth cravings. Let's start Pistachio Macarons with Lemon Pistachio Filling.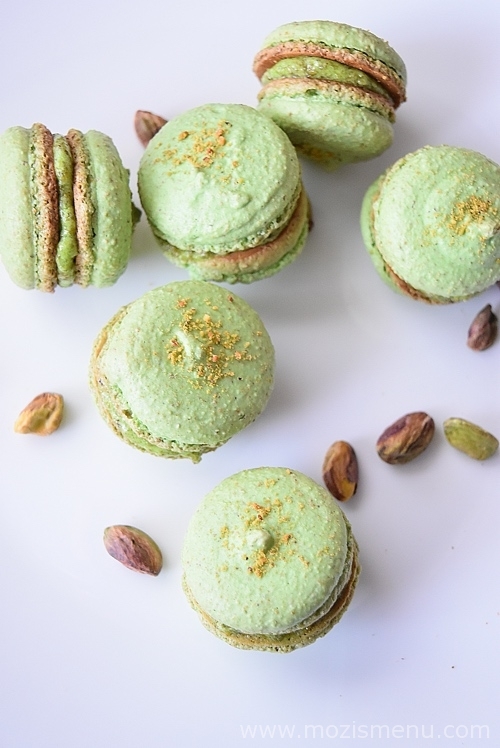 Total Time
1 hour 20 minutes
Makes
About 30 sandwich cookies
Ingredients : For Macarons shells
Almond flour – 2/3 cup (60 grams )
Unsalted Pistachio flour – 1/3 cup (40 grams) + to garnish
Powdered sugar – 3/4 cup (100 grams)
Sugar – 1/4 cup (50 grams)
Egg Whites – from 2 eggs
Cream of tartar – 1/4 tsp
Green gel food color – 1 drop
For Filling
Sugar – 1/3 cup (65 grams)
Water – 2 tbsp
Egg yolks – from 2 eggs
Unsalted butter – 55 grams, cut it in cubes
Unsalted Pistachio flour – 5 tsp
Lemon juice – 2 tsp
Equipment
Baking tray / Baking sheet – 2
Parchment paper – As needed
Pastry bag – 2
Extra large round pin
Wire rack (optional)
Directions
To make pistachio flour, blend raw unsalted pistachios in a blender/mixer into a powder and sift it.
Again in a bowl, sift powdered sugar, almond flour, and pistachio flour together and keep it aside.
In a cake mixer, with a whisk attachment or an egg beater, beat egg white till it turns foamy.
Add cream of tartar and continue to beat. Add sugar little by little by increasing the speed from medium to high and let it beat till it becomes fluffy.
Add food color (I used Ameri color Mint green). Beat it again for 1 minute to mix the color evenly.
Add the sifted dry ingredients to the beaten egg white and gently fold the batter in a clockwise direction from the bottom. In the second round, bring the spatula to the center of the batter. Fold the batter continuously in the same manner till the batter turns semi-solid as shown in the picture below.
Take a pastry bag, slide the round tip in, and measure how much of the tip you need to cut off.
Cut just where the grooves begin and drop them into the bag and fit it tightly.
Using a spoon or spatula fill the above mixture in the pastry bag and twist the top for a couple of times to close the top and keep them from coming out of the top of the bag.

Take two baking trays or baking sheet lined with parchment paper tray and start piping out 1½ inch rounds and give enough space between each round. Rotate the baking tray and tap it on the counter for a couple of times till the batter spreads evenly and to get rid of air bubbles.
Sprinkle Pistachio powder on top and allow it to dry (it will take about 15- 45 minutes based on the weather.) To check if it's ready to bake, touch it on the top lightly and if it is not sticky, then it is ready to bake. Preheat the oven to 300 ºF / 148 ºC and bake the macarons for 15-18 minutes (first, bake it at 300 ºF / 148 ºC for 10 minutes and then bring down the temperature to 275 ºF / 135 ºC and bake it for 5-8 minutes.). To check if it is done, remove one macaron and if the bottom doesn't stick, then it is perfect.
In a pan, add sugar and water and allow it to boil to make sugar syrup.

Meanwhile, beat egg yolks for a minute and then add the hot sugar syrup and beat it on medium speed continuously till it becomes light yellow color. Add butter cubes one at a time, and beat it till it becomes creamy. 
Add 1 drop of food color (I used Ameri color Mint green) and mix it evenly.
In a blender, blend pistachio powder and lemon juice together and add this to the egg yolk mixture and continue until it becomes smooth. Transfer it to the pastry bag as in the steps 7, 8, 9.
Place the macaron shell upside down on a wire rack or on a plate and pipe the filling on it and place another shell on top. Refrigerate Pistachio Macarons with Lemon Pistachio Filling in an airtight container for  1 day before serving.

[/directions]
Notes
If the filling is too thin, you can add some pistachio powder and mix it (as shown in the picture below) and let it be in the refrigerator for at least 1 hour and then pipe it on macaron shells.
Bring egg and butter to room temperature before using them.
If you don't have powdered sugar, blend the regular sugar in the blender.
Sprinkling pistachio powder/flour on top of the macaron shell is optional.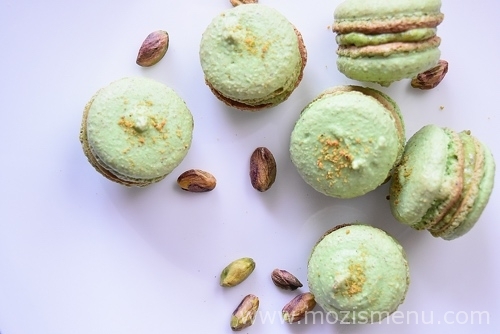 Summary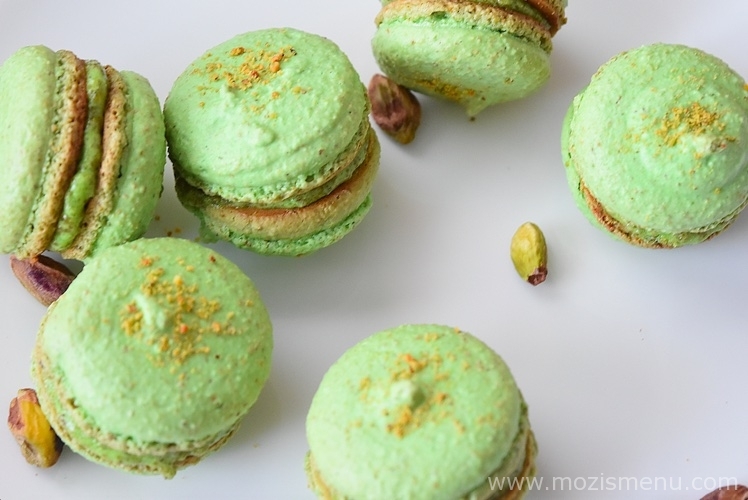 Recipe Name
Author Name
Published On
Preparation Time
Cook Time
Total Time
Average Rating





Based on 3 Review(s)