Kaju Katli / Kaju Barfi / Cashew Slice is an Indian sweet made with Cashew and Sugar syrup especially during Diwali / Deepavali. I was wondering why it was named Kaju Katli; so after some research online, I found out that Kaju means Cashew and Katli means Slice in Hindi. So its name literally translates to Cashew Slice in English. A delicious and simple ultra-creamy Kaju Katli / Kaju Barfi / Cashew Slice is certain to wow anyone who has a slice!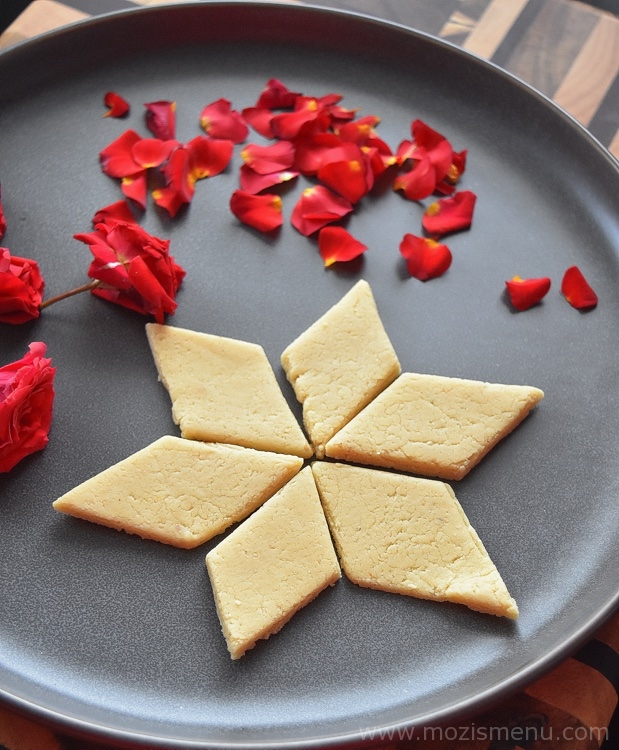 You can also check my other sweet recipes
Diwali / Deepavali sweets & snacks
If you try this recipe out, please hashtag your photos with #MozisMenu on Instagram and tag me with @MozisMenu. I love seeing your takes on my recipes!
I have a bite-sized video to show you how to make this recipe.
Ingredients
Cashew – 1 cup
Ghee – 1 tsp + ½ tsp to grease
Sugar Syrup:-
Sugar – ½ cup
Water – ⅓ cup
Instructions
In a blender, grind the cashew into powder and keep it aside.
In a wide non-stick pan, add sugar and water.
Boil it until the sugar dissolves completely.
Keep the flame low and add the blended cashew powder.
Mix it well till it separates from the pan and starts to thicken.
In a plate, add ½ tsp of ghee and grease the plate.
Transfer the cashew dough to the greased plate.
Add 1 tsp of ghee and knead it well to make the dough smooth (instead of ghee, you can also add 1 tsp of milk, but the shelf life will be shorter).
Place a parchment paper (you can also use the same plate used to knead the dough to flatten, but using a parchment paper will make this step easier).
Place the cashew dough over the parchment paper.
Place another parchment paper on top of the dough.
Using a rolling pin, flatten the cashew dough (don't make it too thin or too thick).
Now remove the parchment paper from the top.
Adjust the sides of the flattened dough to make it even.
Using a regular knife or a butter knife, slice it gently into diamond shape or any desired shape. Kaju Katli / Kaju Barfi / Cashew Slice is now ready to serve!
Notes
Using a non-stick pan to make the cashew dough makes the whole process easier (otherwise the sticky dough will stick to the pan).
Keep the flame low to avoid burning.
Store the Kaju Katli in an airtight container and keep it refrigerated.
Make sure the cashews are at room temperature before grinding it in a blender.
Don't add more water than the quantity I mentioned above (otherwise it will become too sticky).
While flattening the cashew dough, don't make it too thin (otherwise it will make the Kaju Katli dry, rough, and brittle).
Knead the dough well to soften the texture.
If the cashew dough becomes rough while kneading, add 1 – 2 tsp of milk to soften it.
If you add milk, you can't store it for a long time (i.e. the shelf life is reduced).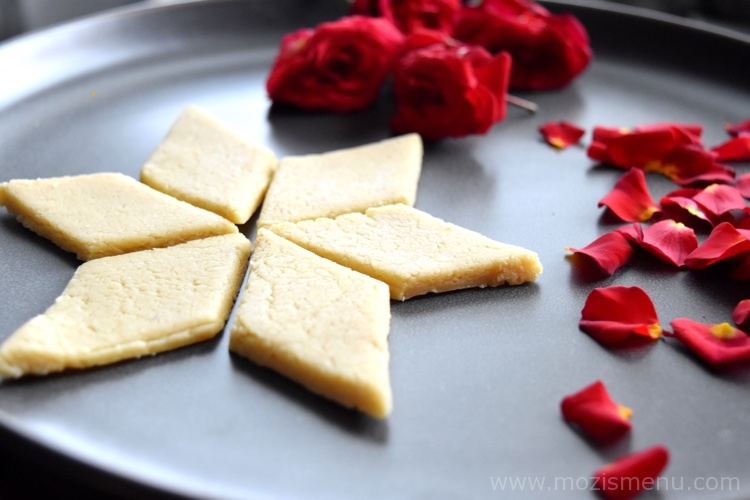 SaveSave
SaveSave
SaveSave
Summary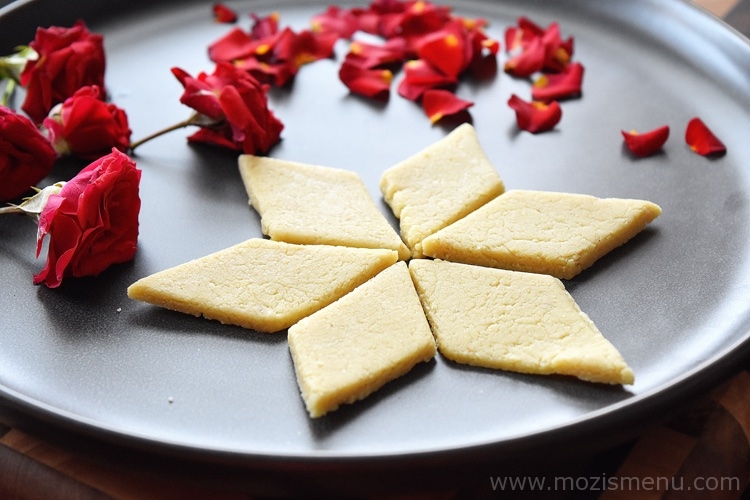 Recipe Name
Kaju Katli / Kaju Barfi / Cashew Slice
Author Name
Published On
Preparation Time
Cook Time
Total Time