Motichoor Ladoo (Laddu) / Motichur Ladoo (Laddu) is a traditional Indian festival sweet that simply melts in your mouth. Not only is it tasty, but it is quite simple to make these Motichoor Ladoo (Laddu) / Motichur Ladoo (Laddu), as you only need a few simple ingredients. You could pack these Motichoor Ladoo (Laddu) / Motichur Ladoo (Laddu) and make a great homemade gift for a friend or relative.
The real secret to making great Ladoo / Laddu is to have the patience to make the boondis/beads, because the boondis must be really tiny and should be fried over a medium flame, and care should be taken to make sure they don't turn crispy. By no means should you hurry!!! If you fry it in low heat, the tiny balls will not come out and the batter will stick to a corner, and if you overheat, the boondis/beads could become crispy or get burnt and will be unusable. Don't worry though, it is really easy to keep the heat in check.
Make sure the oil is hot enough over medium flame by dropping a tiny amount of batter into the oil and if it pops up as soon as you drop it, then the oil is perfect to fry. Don't fry boondis/beads for more than a minute. Mix it with sugar syrup and roll them into balls to make the Ladoo / Ladoo.
Next, I let the  Motichoor Ladoo (Laddu) / Motichur Ladoo (Laddu) to air dry for a couple of hours or overnight and this way finally the extra moisture has time to evaporate to make it perfectly tasty. At this point, the Ladoo / Laddu making process is complete!
You can also check my other sweet recipes here:
If you try this recipe out, please hashtag your photos with #MozisMenu on Instagram and tag me with @MozisMenu. I love seeing your takes on my recipes!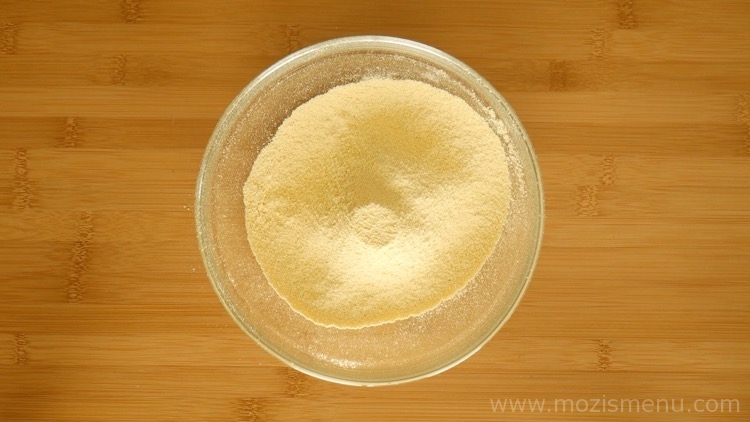 I have a bite-sized video to show you how to make this recipe.
Ingredients
Almonds / Badam – 1 tbsp, chopped
Pistachio / Pista – 1 tbsp, chopped
Ghee / Clarified Butter – 1 tsp
To Make Boondi:-
Besan flour (Gram / Chickpeas flour) – 1 cup
Milk – ¼ cup
Water –  as needed (I added ⅔ cup)
Orange food color – ¼ tsp
Salt – a pinch
Oil – to deep fry
Sugar Syrup:-
Sugar – ¾ cup
Water – ¾ cup
Cardamom powder – ¼ tsp
Lemon juice – ¾ tsp
Rose essence / Rosewater – ⅛ tsp
Instructions
Over a mixing bowl, place a sieve and add besan flour, orange food color, and salt.
 Sift it all  together by mixing continuously to remove any lumps.
First roughly mix the dry ingredients with a whisk

Add milk and mix it well. 
Then add water little by little and make it into a medium thin batter.
Heat oil in a pan over medium heat. 
Hold the Boondi ladle or a Skimmer Spoon/Strainer Ladle over the center of the pan
Start pouring the batter slowly through the strainer ladle by rotating the ladle in a circular motion (so that the boondi will spread all over the oil or all the batter will stay in the center). Please check the byte-sized video that I've included above to understand this process clearly.
Fry it for about 30 – 45 seconds or till the sizzling sound stops (don't fry it for more than a minute and don't allow the boondi to get crispy).
Transfer it to a colander to drain the excess oil (if some pieces of boondi are a little bigger, don't worry because we are gonna blend them coarsely.)
Transfer the boondi to a blender.
Blend it coarsely (don't blend it too much then it will be harder to roll it into balls) and keep it aside.
For the sugar syrup, take a pan, add sugar and water. 
Mix it well to dissolve the sugar. 
Then boil it till you get one string(thread) consistency as shown in the picture below.
Add lemon juice.
Add the cardamom powder and rose essence and switch off the flame.
Mix it all well.
Immediately, add the coarsely blended boondi.
Mix it till it combines well with the sugar syrup (add the boondi while the sugar syrup is still hot).
Then add the chopped almonds and pistachios. 
Mix it again (if you have melon seeds / magaz, you can add it too).
Close it with a lid and allow it to rest for 15 minutes or till the boondi completely absorbs the sugar syrup (don't allow it to sit for more than 30 minutes). 
Grease a serving plate with ghee and keep it aside.
Roll the mixture into medium sized balls to make ladoo.
Then transfer them to the greased serving plate to avoid sticking.
Finally Motichoor Ladoo (Laddu) / Motichur Ladoo (Laddu) is now ready to serve!
Notes
Mix the boondi with sugar syrup while the syrup is still hot, or else the boondi will not combine well.
Additionally, you can add melon seeds (magaz) along with almonds and pistachios.
If you have traditional boondi ladle, then there is no need to blend it.
Don't blend the boondi too much as it will be harder to roll into balls.
Store it in the refrigerator to save it for later.
Summary
Recipe Name
Motichoor Ladoo (Laddu) / Motichur Ladoo (Laddu)
Author Name
Published On
Preparation Time
Cook Time
Total Time