I loved making this Apple Shaped Kaju Katli / Apple Shaped Cashew Nut Burfi inspired by the Apple fruit 🍎. It is made with cashew nuts, sugar syrup, and food color. You can also make them in other shapes like Watermelon, Orange, Strawberry, etc 🍉🍊🍍
They're SO CUTE! They'll definitely jazz up the table for this Diwali! I hope you find some inspiration for your Diwali with this cute and colorful Apple Shaped Kaju Katli / Apple Shaped Cashew Nut Burfi!  It is great for kids of all ages 😊, and makes the most colorful and brightest Diwali party ever!!!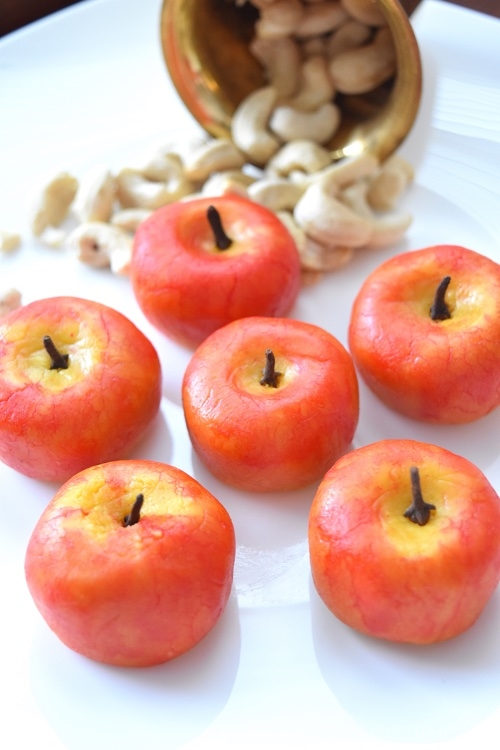 You can also check my other sweet recipes here.
and Diwali / Deepavali recipes.
If you try this recipe out, please hashtag your photos with #MozisMenu on Instagram and tag me with @MozisMenu. I love seeing your takes on my recipes!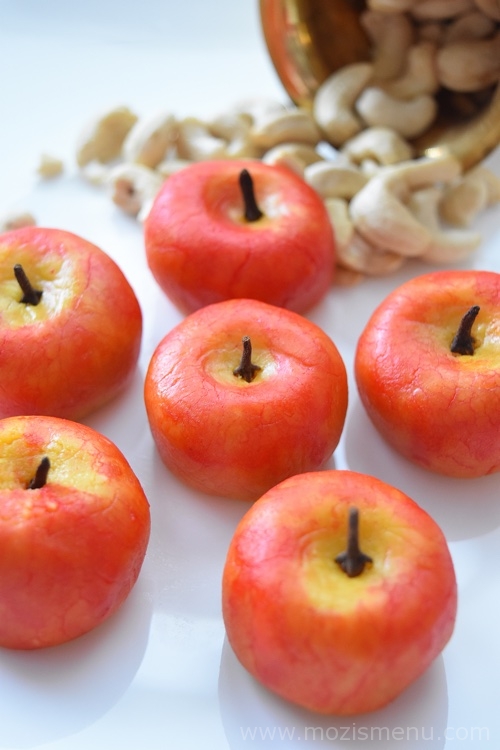 I have a bite-sized video to show you how to make this Apple Shaped Kaju Katli / Apple Shaped Cashew Nut Burfi recipe.
Ingredients
Cashew – 1 cup
Sugar – ½ cup
Water – ⅓ cup
Yellow food color – ¼ tsp
Ghee – as needed
To Make Apple Shape:-
Cloves – 8
Sugar – 1 tbsp
Water – 1 tbsp
Red food color – ⅛ tsp
Instructions
Firstly, add cashews to a blender / mixie.
Next blend it into a fine powder.

Then add sugar and water to a wide pan.
Boil till the sugar melts completely and dissolves.

Add yellow food color and mix it well.
Add the ground cashew powder to the sugar syrup.
Over low flame, mix it all well and keep stirring to avoid any lumps.
Stir it till it starts to separate from the pan, and it will look like a semi-solid dough (to reach this consistency it will take around 6 – 8 minutes). At this stage, switch off the flame.
Transfer it to a bowl (this step is necessary; otherwise the hot pan will burn the mixture from the bottom)
Add 1 tsp of ghee, and start to knead the dough (the dough should be hot while kneading). While kneading, if it is too hard, add a little milk.
Take a plate, add ½ tsp of ghee and grease the plate to avoid sticking (see next step for more details).
Roll equal-sized small balls from the dough, and keep it aside (while making the balls, apply some ghee on the palm before rolling it).
In a small microwaveable bowl, add water and sugar, and microwave it for 30 – 45 seconds or till the sugar melts.
Add red food color to it and mix it well to dissolve, and keep it next to the dough balls we made earlier.
Hold the balls and slightly press the top and bottom as shown in the photo below to give the dough an apple-like shape without losing the roundness on the sides.

Start painting the side of the balls lengthwise using a painting brush (don't paint on the top center or the bottom center where we are holding to give it a natural apple look).
Once you complete the painting job, keep it aside and leave it for 5 minutes.
Take cloves, and stick it on the top of the apple kajus like a small stem (use minimum pressure while sticking the cloves).
Apple Shaped Kaju Katli / Apple Shaped Cashew Nut Burfi is now ready to enjoy and to rock this Diwali!!
Notes
While making the dough, if the water in the sugar syrup is more than the amount mentioned above, then while making the apple shape it will keep losing its shape and flatten out.
Don't reuse the sugar syrup we made for making the cashew dough, to make the red food color syrup because the sugar consistencies are different for both.
To make the red food color syrup, the sugar syrup has to be slightly thicker to make the coloring. Otherwise there is a chance that the color will drop after painting.
You can also mix red food color with little water. but adding it with sugar syrup will give a glossy finish.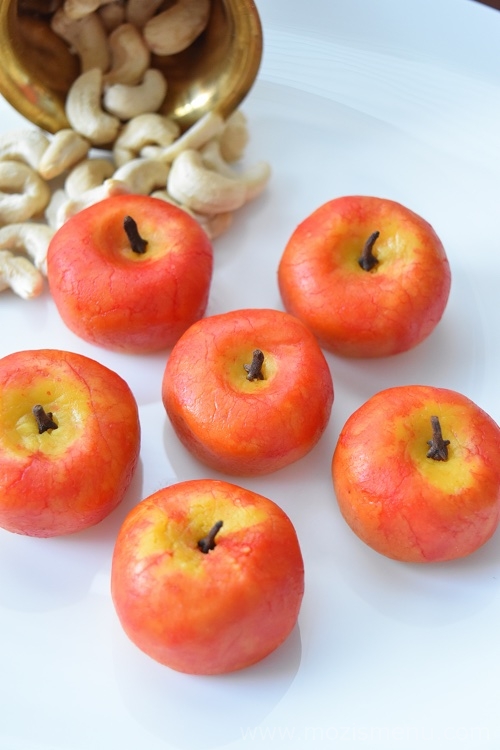 Summary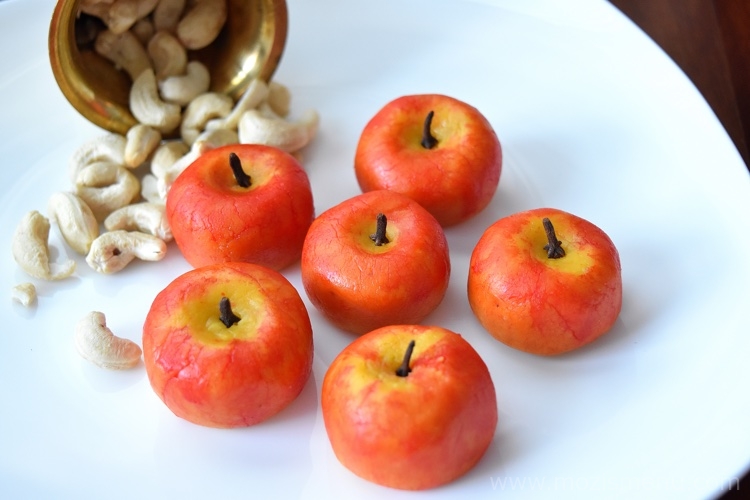 Recipe Name
Apple Shaped Kaju Katli / Apple Shaped Cashew Nut Burfi
Author Name
Published On
Preparation Time
Cook Time
Total Time
Average Rating





Based on 1 Review(s)