Mysore Pak / Mysuru Pak / Mysore Indian Burfi is an Indian sweet which is famous in South India. It is made with three simple ingredients. Also, it takes a major part in Diwali / Deepavali sweets and weddings, where it is served traditionally along with lunch meals.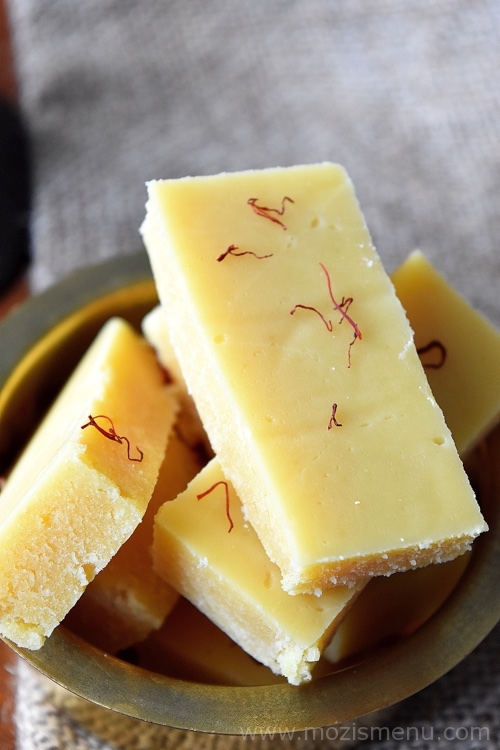 Sometimes the simplest recipe yields the richest results. At first glance, It looks like a complicated recipe but it is actually SUPER easy. This Mysore Pak / Mysuru Pak / Mysore Indian Burfi can be made in less than 30 minutes! And tastes out-of-this-world delicious! It's the perfect treat for Diwali, or you can even make a batch and share it with neighbors and friends. To be honest, in my childhood I hated Mysore Pak, because of its hardness. Once I tasted it in Sri Krishna Sweets (a popular South Indian sweet store) and from that moment onwards, I started loving Mysore Pak. It just melts in your mouth. When I made this Mysore Pak / Mysuru Pak / Mysore Indian Burfi for the first time, my husband was quite surprised that it came out really well.
You can also check my other sweet recipes here.
and Diwali / Deepavali recipes.
If you try this recipe out, please hashtag your photos with #MozisMenu on Instagram and tag me with @MozisMenu. I love seeing your takes on my recipes!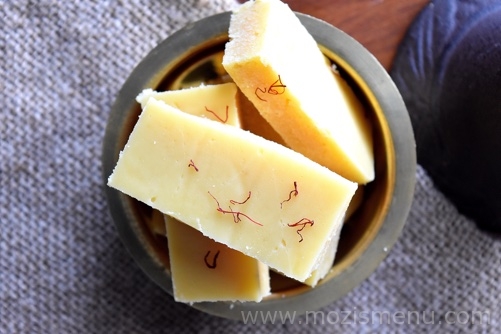 I have a bite-sized video to show you how to make this recipe.
Ingredients
Besan flour – ½ cup
Sugar –  1¼ cup
Water – 1 cup
Unsalted butter – 1 cup (226 g)
Equipment:
Baking tray / Steel tray / Glass tray
Instructions
Over a mixing bowl, place a sieve and add besan flour. 
Sift besan flour by mixing continuously to remove any lumps.
Heat Butter over a low flame (as low as possible).
Allow it to melt completely and let it be on the flame to maintain heat.
In a baking tray or steel plate, take butter as needed and rotate it or brush it to coat on all sides.
 Then place a parchment paper and grease butter on top of the paper and keep it aside.
For the sugar syrup, take a pan, add sugar and water.
 Mix it well to dissolve the sugar. 
Then boil it till you get one string(thread) consistency as shown in the picture below.
Add besan flour to the sugar syrup, little by little.
Mix it with the syrup till all the lumps break (don't worry if there are too many lumps as it will all break while mixing).
Now add hot melted butter, 1 ladle at a time, and mix it till it absorbs the butter completely.
 Do it till all the butter combines well with the flour by stirring it continuously or tills it gets separated from the pan's side ends (stir it continuously or else it will get burnt at the bottom of the pan).
Pour it on the baking tray or steel plate.
Shake it gently to make it even.
Wait for about 5 minutes and cut it into the desired shapes.
Place a plate on top of the tray and turn the tray upside down. 
Remove the parchment paper from the Mysore Pak. 
Separate it as shown in the picture below. Once it cools down completely, store it in a container or in a ziplock, and keep it in the refrigerator.
Mysore Pak / Mysuru Pak / Mysore Indian Burfi is now ready for Diwali!!!
Notes
While cooking, keep it on low to medium flame to avoid burning.
This quantity will make around ½ kg (1 lb) Mysore Pak, and you can make about 12 pieces.
Don't stop stirring until you transfer it to the baking tray or steel plate (or else the bottom will get burnt).
If needed, you can add a pinch of cardamom powder while adding besan flour to the sugar syrup.
Parchment paper makes it easy to make, or else you'll have to dig the tray or tap it on top of a kitchen counter to release it from sticking to the tray.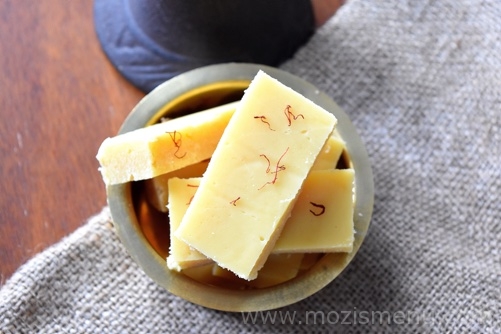 Summary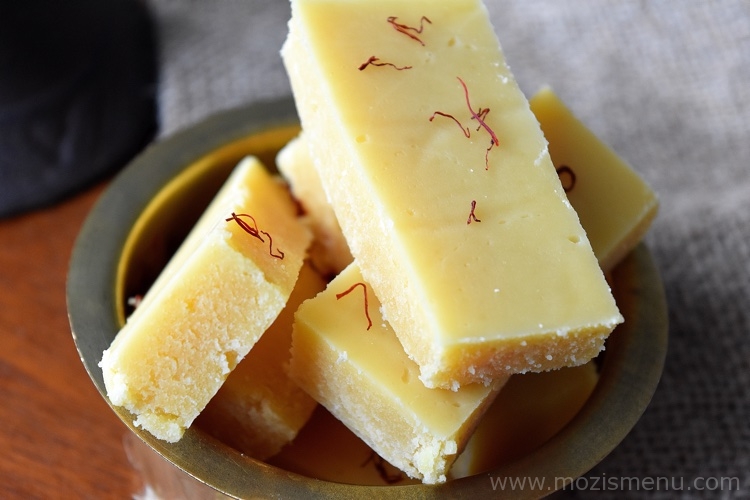 Recipe Name
Mysore Pak / Mysuru Pak / Mysore Indian Burfi
Author Name
Published On
Preparation Time
Cook Time
Total Time
Average Rating





Based on 1 Review(s)