Paruppu Vadai / Parippu Vada / Chana Dal (Lentil) Fritters are scrumptiously good and filled with flavor, and have a crispy exterior and a soft creamy interior.  They make for a fabulous appetizer as well. To make these Paruppu Vadai / Parippu Vada / Chana Dal (Lentil) Fritters, you will need to presoak the Chana and Urad dal in the water as described in the instructions below. Before you grind the dal, make sure to drain as much water out of them as possible. Otherwise, it won't be as easy to make the fritters. Then grind and mix it with the rest of the ingredients.
You can also check my other snacks recipe here.
If you try this recipe out, please hashtag your photos with #MozisMenu on Instagram and tag me with @MozisMenu. I love seeing your takes on my recipes!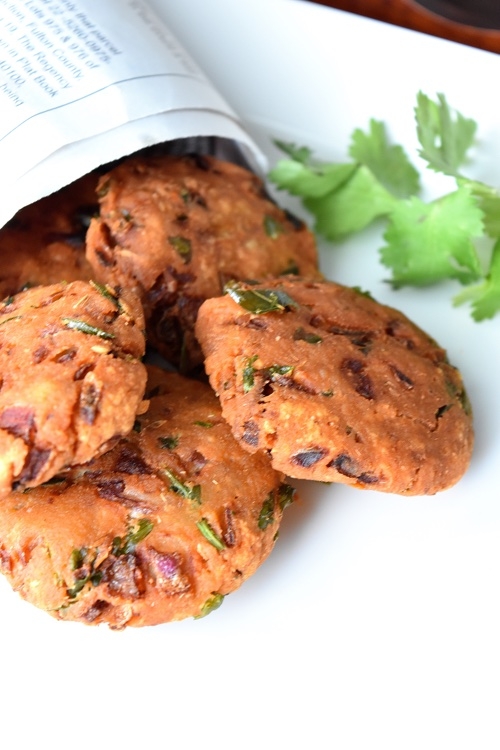 Prep Time
10 minutes + 3 hours soaking
Total Time
3 hrs 25 minutes
I have a bite-sized video to show you how to make this recipe.
Ingredients
Onion – 1, chopped
Cilantro (Coriander leaves) – ½ cup, roughly chopped
Curry leaves – 2 sprigs, roughly chopped
Green chili – 2, chopped
Asafoetida (Hing) – ⅛ tsp
Salt – to taste
Oil – to deep fry
To Grind:-
Chana dal – 1 cup
Urad dal – 2 tbsp
Red Chili – 4
Fennel seeds – 2 tsp
Instructions
Take a bowl, add chana dal and urad dal.
Add enough water

Soak it in water for 3 hours.
Drain the dal in a sieve to remove as much water as possible.
Transfer it to a blender and  grind it coarsely. 
 Add red chili, fennel seeds, and grind it again coarsely. Make sure the dal, red chili, and fennel seeds combine well. 
Transfer it to a bowl.
Add onion, cilantro (coriander leaves), curry leaves, green chili, asafoetida (hing), salt.
 Mix it until they combine well.
Make small balls
Flatten the tops (I'm using a glove to make it. If you don't want to use a glove, you have to wet your bare palm with water before making each Vadai.)
Heat enough oil in a frying pan, and deep fry the Vadais over medium flame till they become golden brown. 
Flip the Vadai to make sure the other side becomes golden brown as well. It may take about 5 – 6 minutes.
Serve Paruppu Vadai / Parippu Vada / Chana Dal (Lentil) Fritters hot with Chutney or tomato ketchup!!!
Notes
If the dal is watery after grinding, then add 1 – 2 tbsp of rice flour to adjust the consistency.
If you like, you can use cumin seeds instead of fennel seeds.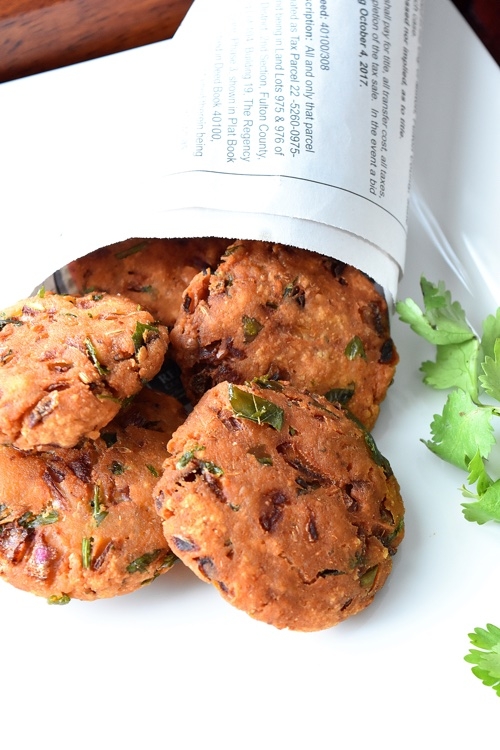 SaveSave
SaveSave
SaveSave
SaveSave
SaveSave
SaveSave
SaveSave
SaveSave
Summary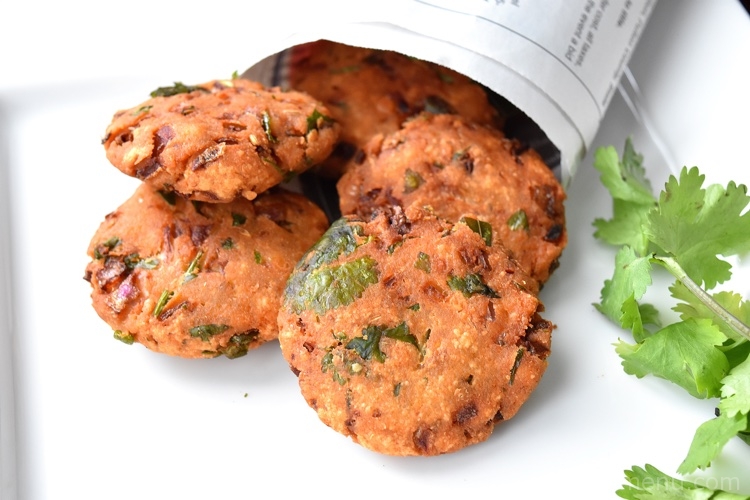 Recipe Name
Paruppu Vadai / Parippu Vada / Chana Dal (Lentil) Fritters
Author Name
Published On
Preparation Time
Cook Time
Total Time
Average Rating





Based on 1 Review(s)