Samosa is one of the most popular appetizers which can be made in two variations – vegetarian and non-vegetarian. This Chicken Keema Samosa / Minced Chicken Samosa recipe is for non-vegetarian lovers, especially for the chicken lovers. It is fantastically delicious and they are too good to be described in words.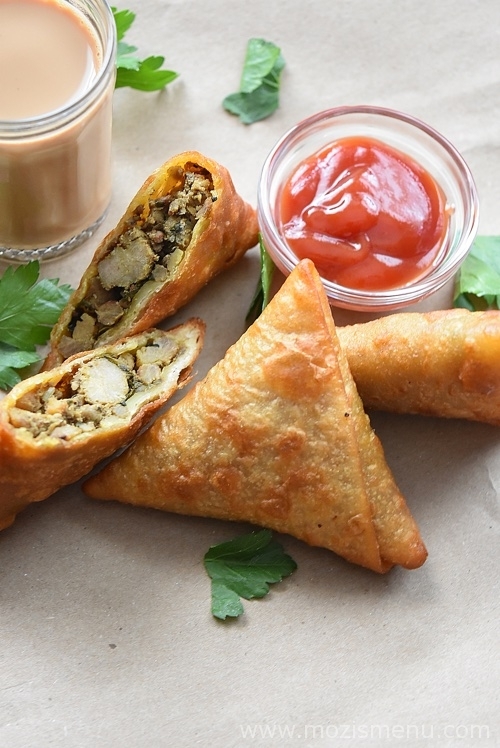 To make it, you will need to precook the chicken keema as described below. These Chicken Keema Samosa / Minced Chicken Samosa need to be deep fried for 1-2 minutes only (as the samosa pastry and chicken keema filling are already cooked.) You can pair them with a dipping sauce like ketchup or tamarind sauce.
If you try this recipe out, please hashtag your photos with #MozisMenu on Instagram and tag me with @MozisMenu. I love seeing your takes on my recipes!
You can also check my other snacks recipe here.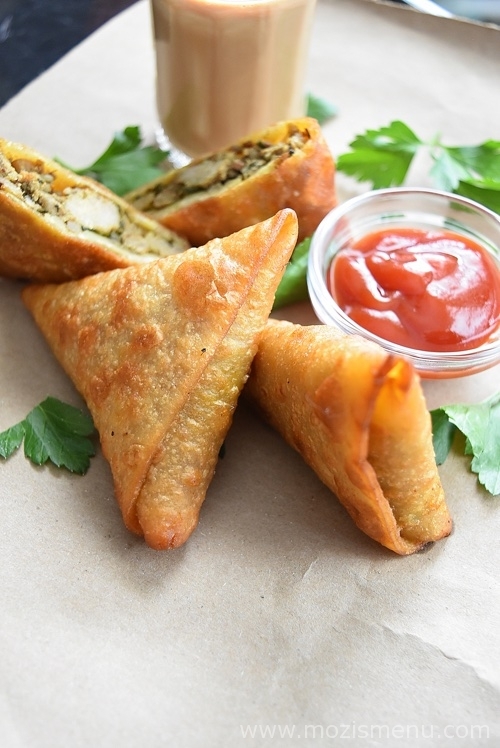 Ingredients
Chicken Keema
Minced chicken – 1 lb
Onion, medium-sized – 2½, chopped (keep ½ chopped onion aside)
Green chili – 3, chopped
Ginger-Garlic paste – 1 tbsp
Vinegar – 2 tbsp
Garam masala – ½ tsp
Pepper powder – 1 tsp
Turmeric powder – ¼ tsp
Cumin powder – ¼ tsp
Coriander leaves (Cilantro) – 1 cup, chopped
Salt – to taste
Oil – 2 tbsp
Dough for pastry
All purpose flour (maida) – 1½ cup
Wheat flour – ½ cup
Salt – 1/2 tsp (or) to taste
Water – As needed
Oil – 2 tbsp
Instructions
In a bowl, add all-purpose flour, wheat flour, salt and mix it all together. Add oil, mix it roughly and add water little by little and knead it to a soft dough. Wrap it with a wet cloth and keep it aside for 20 minutes.
Heat oil in a pan, add onion and sauté till it turns translucent. Add green chili, ginger-garlic paste, and stir it well till the raw smell goes away.
Add minced chicken, saute it well (it will turn like scrambled egg) and allow it to cook (if needed sprinkle some water). Once it is almost cooked, add garam masala, pepper powder, turmeric powder, cumin powder, and salt. Stir it and allow it to cook completely.
Add vinegar, ½ onion, coriander leaves(cilantro), and mix it well and cook it for a minute. That's it!! Stuffing is ready.
Take the dough, and knead it again. Cut it into small pieces and make them into small balls. Dust the small dough balls in wheat flour or all-purpose flour. Sprinkle some oil in roti maker and rolling-pin to avoid stickiness.
Roll the balls lengthwise as thin as possible and cut the edges on all sides and cut it in two halves.
Over medium heat, put the pastry sheet on tawa and flip it immediately and take it (don't cook it for a long time like chapati. The sheet should be half-cooked or else it will break while folding it with filling.)
In a small bowl, add 1 tsp of all-purpose flour, a little water, and make it into a paste and keep it aside.

Fold the pastry sheet as shown in the picture below and fill 1 tsp of chicken keema and apply the maida paste on the edge and slide it inside(if it is hard to slide inside, fold it on top.) Make sure it doesn't have any openings for the oil to get into the filling.
Heat oil in a pan. Deep-fry it on medium flame till it turns golden brown.

Chicken Keema Samosa / Minced Chicken Samosa is now ready to serve with ketchup or tamarind sauce.
Notes
If you don't have vinegar, you can replace it with lemon juice.
Summary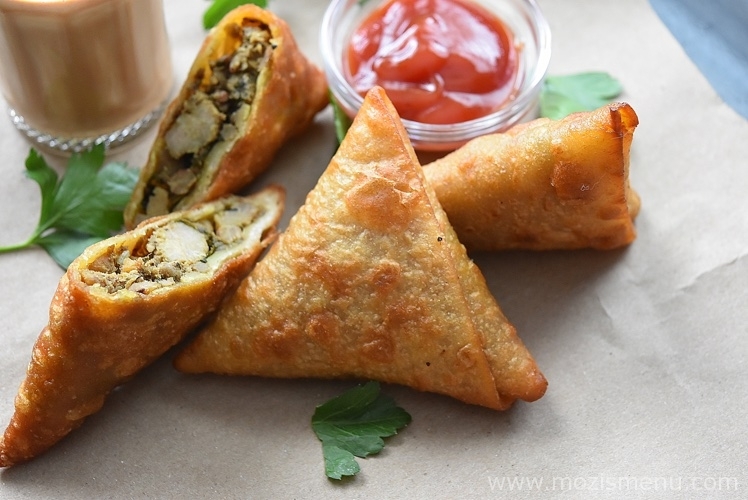 Recipe Name
Chicken Keema Samosa / Minced Chicken Samosa
Author Name
Published On
Preparation Time
Cook Time
Total Time
Average Rating





Based on 11 Review(s)