Sharjah Shake / Banana Chocolate Milkshake recipe is finally here! I love, love, love these milkshakes. It is a rather popular drink in coffee shops around Kerala where I grew up, but here where I currently live, I can't get one. So, I decided to make my own version and it turned out delicious! It goes well with a really good sandwich. The peanut flavor is amazing, but the one that really works for me is Boost (chocolate drink powder) to give that chocolaty flavor. In certain places, they also use Horlicks or Bournvita instead of Boost.
This yummy drink has all my favorite things: Milk, Peanuts, Boost, and Heavy Whipping cream! A deliciously simple recipe perfect for a hot summer day with classic sweet and creamy flavors! You'll find all the flavors of a banana in this Sharjah Shake / Banana Chocolate Milkshake. Freeze Milk and save a ripe banana ahead of time; so that you can enjoy these milkshakes whenever you crave them.
Embellish by pouring chocolate syrup on the inner sides of a glass and then pour the milkshake. Garnish with Heavy Whipping cream and chopped peanuts!
You can also check my other milkshake recipes
If you try this recipe out, please hashtag your photos with #MozisMenu on Instagram and tag me with @MozisMenu. I love seeing your takes on my recipes!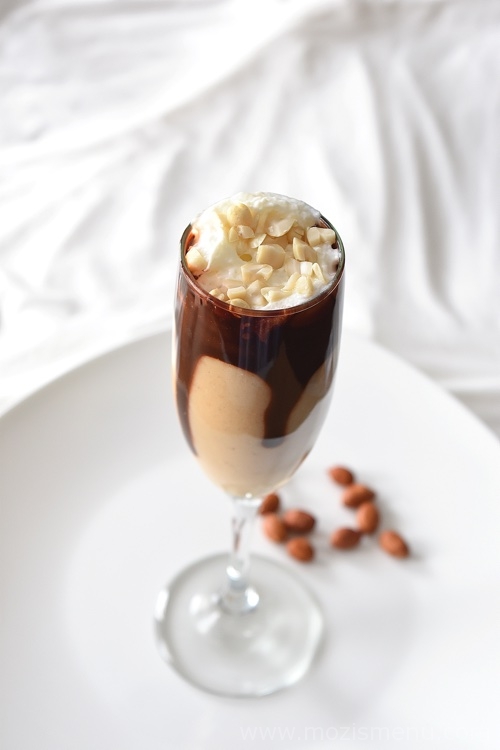 I have a bite-sized video to show you how to make this recipe.
Ingredients
Milk – 2 cups, frozen
Ripe banana – 2, large
Peanut – ½ cup, skin removed
Boost (chocolate drink powder) – 2 tbsp
Cardamom powder – ¼ tsp
Sugar – 2½ tbsp
To Decorate:-
Chocolate syrup – As needed
Heavy Whipping cream – to whip it on top
Peanut (skin removed) – 1 tbsp, roughly chopped
Instructions
Pour milk into a blender and keep it in a refrigerator to freeze it. 
Once it freezes, take it out and break it with a spoon to loosen the frozen milk.
Add peanuts (make sure the skin is removed).
Add Boost, cardamom powder.
Finally, add  banana, and sugar. 
Blend it well into a smoothie.
Pour a thick layer of the chocolate syrup around the inner corners of the cup.
Wait for a minute to allow it to drip inside the cup as shown in the photo below.
Pour the blended milkshake into the cup. 
Top it with heavy whipping cream.
Sprinkle the chopped peanuts on top.
Sharjah Shake / Banana Chocolate Milkshake is ready to serve chilled!
Notes
If you don't have Boost (chocolate drink powder), you can use chocolate syrup instead.
Serve it immediately or else it will become watery.
Instead of heavy whipping cream, you can use Vanilla ice cream.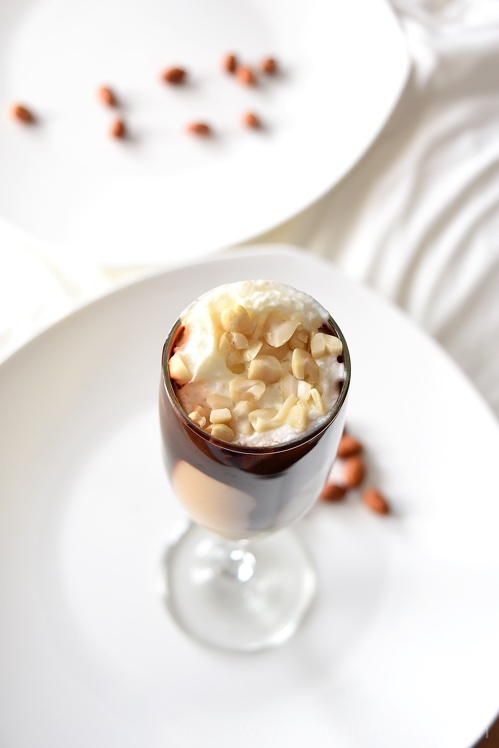 Summary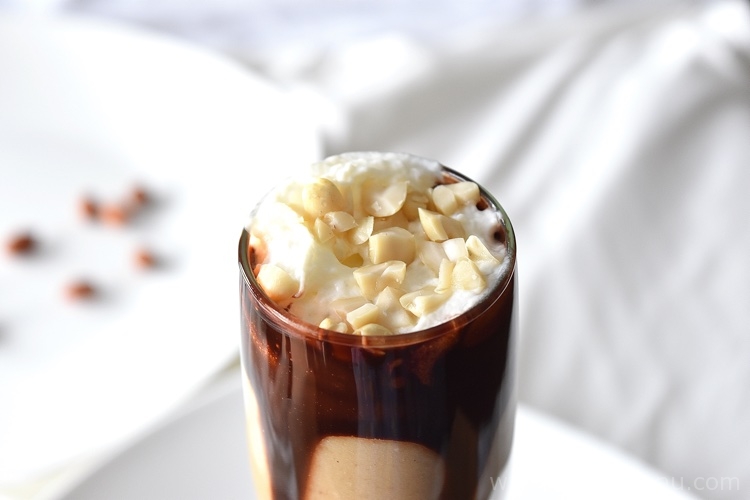 Recipe Name
Sharjah Shake / Banana Chocolate Milkshake
Author Name
Published On
Preparation Time
Cook Time
Total Time
Average Rating





Based on 2 Review(s)