Mango Mastani / Mastani Style Mango Milkshake is a famous milkshake from the city of Pune. The name Mastani was given to this drink because it is as attractive and beautiful as Bajirao's Mastani, the Indian queen.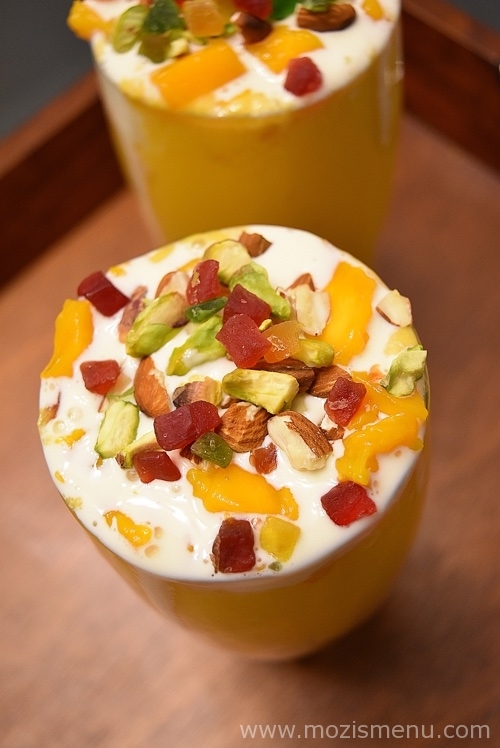 Mangoes are one of the sweetest among fruits and are the tropical sunshine of summer. The trick to a perfectly sweet and creamy mango milkshake is to make sure the mangoes are really ripe. The softer and riper the mangoes, the sweeter the milkshake will be. If the mango is hard, the milkshake will be sour and grainy.
If you try this recipe out, please hashtag your photos with #MozisMenu on Instagram and tag me with @MozisMenu. I love seeing your takes on my recipes!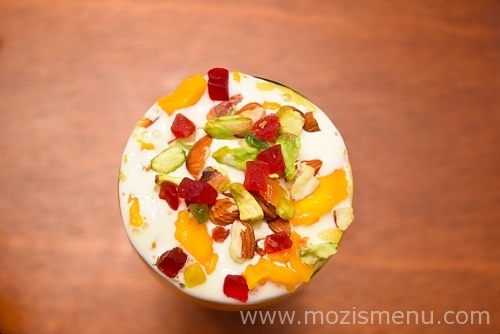 Ingredients
Ripe sweet mangoes – 2 cups, chopped (I've used 3 mangoes to make 2 cups)
Chilled milk – 1 cup
Mango ice cream – 2 scoops
Vanilla ice cream – 2 scoops
Sugar – 2 tbsp
Icecubes – 3-4 (optional)
Mastani Toppings
Mango pieces – 2 tbsp
Tutti frutti – 2 tsp
Almonds – 2 tsp, chopped
Pistachios – 2 tsp, chopped
Instructions
Wash, peel and chop the mangoes (set aside 2 tbsp of mango pieces for toppings). Add the rest in a blender or mixer, and blend it until smooth.
Add sugar and blend it again.
Add chilled milk and mango ice cream, and blend it until it becomes thick and creamy.
Take 2 long glasses and pour the milkshake filling the glasses up to 3/4th. Add a scoop of vanilla ice cream on each glass, and top it with chopped mangoes, almonds, and pistachio.
To make it more colorful (which means to give a mastani touch), sprinkle some tutti frutti on top (if you don't have tutti frutti, use glazed cherries).
Mango Mastani / Mastani Style Mango Milkshake is ready to serve.
Notes
If the fruit is cold the ice-cubes are optional. If the fruit is at room temperature and you do not have ice-cubes, cut the fruit and place in the freezer for 20 minutes to chill before blending.
If you don't have tutti frutti, you can replace it with glazed cherries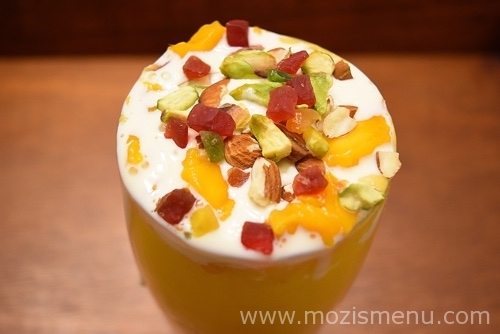 Summary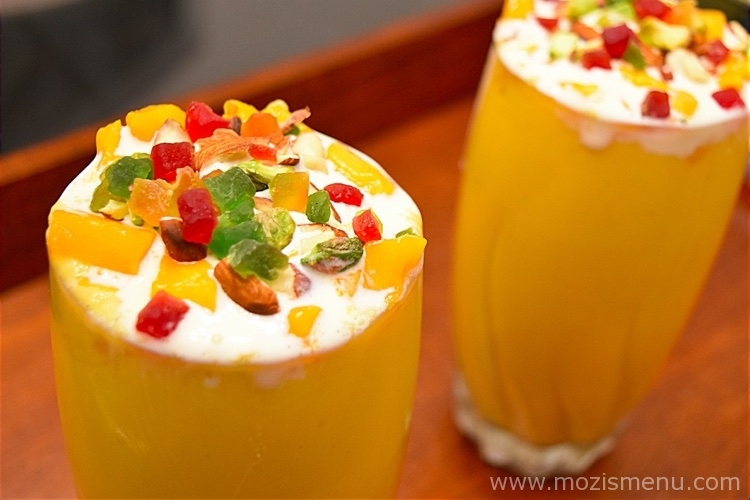 Recipe Name
Mango Mastani / Mastani Style Mango Milkshake
Author Name
Published On
Preparation Time
Cook Time
Total Time
Average Rating





Based on 1 Review(s)