Biryani is probably one of the most well-known and beloved Indian dishes to many people. Prawn / Jhinga / Shrimp Dum Biryani is a popular Indian / Pakistani dish made with marinated shrimp and cooked rice along with herbs and spices.The variety of colors and textures of this Prawn / Jhinga / Shrimp Dum Biryani make not only for a delicious dish but also an incredibly pretty dish. I have always loved this Prawn / Jhinga / Shrimp Dum Biryani but it took me a while to publish this simple recipe as it involves a fair amount of time to clean the shrimp. You can also check my other biryanis here.
If you try this recipe out, please hashtag your photos with #MozisMenu on Instagram and tag me with @MozisMenu. I love seeing your takes on my recipes!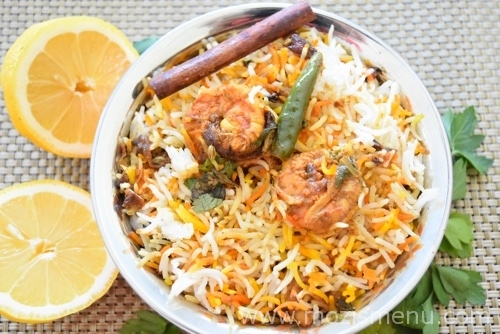 Total Time
1 hour 10 minutes
I have a bite-sized 2-minute video to show you how to make this Prawn / Jhinga / Shrimp Dum Biryani.
Ingredients
Onion – 2, sliced & crumbled
Green chili – 2, slits
Mint leaves – ½ cup
Cilantro (coriander leaves)- ½ cup
Oil – 4 tbsp
Shrimp Marination:-
Shrimp / Prawn / Jhinga, jumbo size – 500 g (1 pound), peeled & deveined
Red chili powder – ½ tsp
Pepper powder – ½ tsp
Turmeric powder – ¼ tsp
Biryani masala – 2 tbsp
Yogurt / curd – 1/4 cup
Lemon juice – 2 tbsp
Salt – to taste
Biryani Rice:-
Basmati rice – 2 cups
Water – 3 cups (please refer to the notes below)
Cardamom – 3
Cloves – 5
Cinnamon stick – ½ piece
Star Anise – 1
Bay leaf – 1
Shahi Jeera – ½ tsp
Fennel seeds – 1 tsp
Rose water – ¼ tsp
Oil – 1 tbsp
Salt – to taste
To Garnish:-
Hot milk – 4 tbsp (split equally into 2 tbsp portions)
Saffron – few strands
Deep orange color -⅛ tsp
Onion –  As needed (fried for masala)
Cilantro (coriander leaves) – to garnish
Instructions
Take the peeled & deveined shrimps in a bowl. Add red chili powder, pepper powder, turmeric powder, biryani masala, and salt.And mix it well.

Add yogurt and lemon juice, and mix it well again. Then keep it aside for 1 hour to marinate.
Clean and soak the rice in enough water for 30 minutes.
Meanwhile, take the sliced onion and crumble it. Heat oil in a pan, add the onion slices and fry them till they become brown. Then transfer it to a bowl and keep it aside. 
In the same pan, add green chili, marinated shrimp and stir it well. Then cook it on medium flame by closing it with a lid.
Once it is cooked, add the fried onion and saute it well.  Then add mint leaves, cilantro(coriander leaves) and stir it well and keep it in low flame.
Meanwhile, take a deep bottomed pan and boil the water. Once it starts to boil, add cardamom, cloves, cinnamon stick, star anise, bay leaf, shahi jeera, fennel seeds, rose water, oil, and salt and let it boil for a minute to get the flavor in the water.
Then add the soaked and drained rice and half-cook the rice in medium flame (please refer to the notes below to cook the rice.)
Spread the shrimp and then top it with a spread of the half-cooked rice as a layer.
In a small bowl, take 2 tbsp of hot milk, soak a few saffron strands and wait until it turns yellow. Again in another bowl, take 2 tbsp of hot milk and mix the deep orange color and keep it aside.
In addition, on top of the layered rice, garnish it with the fried onions (which we kept aside to garnish) and chopped cilantro. Then sprinkle saffron milk and orange milk and close it with a heavyweight lid (if the lid is not heavy, then place something heavy on top of the lid to keep the rice airtight). Then let it cook for 15 minutes in low flame to get dum (keep the flame as low as possible to avoid burning.)
Finally, Prawn / Jhinga / Shrimp Dum Biryani is ready to serve with Raita or Mint chutney!
Notes
I used 1½ cup of water for 1 cup basmati rice. It may vary depending on the type of basmati rice you are using.
To half-cook, the rice, add ¾th water from what is mentioned in the instruction of the rice bag. (i.e., if the instruction to cook for 1 cup rice = 2 cups water, then don't add the exact amount. Instead of that add 1½ cup. So that the rice will not become soggy while it gets dum.)
Don't overcook the rice. It has to cook only 80%. Otherwise, it will become soggy while you make "dum".
The flame must be low while making "dum" or it will burn the bottom.
While adding salt to marinate the shrimp, it needs to be a bit salty to make the masala taste to be balanced after adding the other stuff.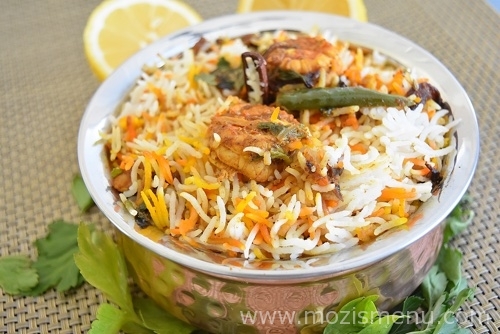 Summary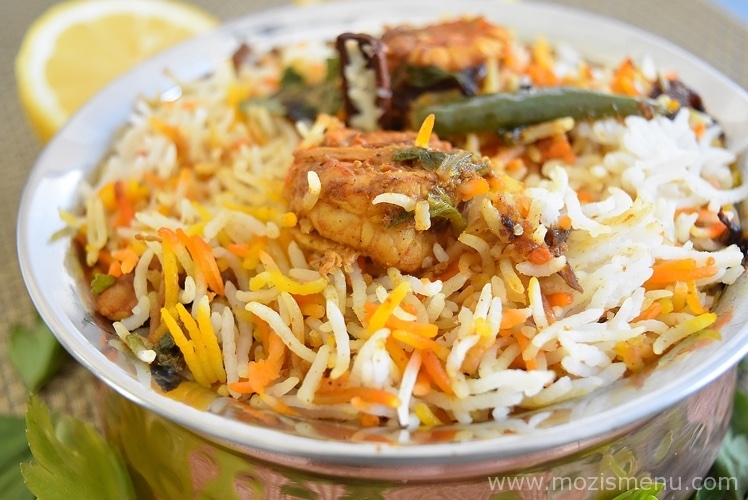 Recipe Name
Prawn / Jhinga / Shrimp Dum Biryani
Author Name
Published On
Preparation Time
Cook Time
Total Time
Average Rating





Based on 2 Review(s)