Egg biryani is a very easy dish to make. It is a special dish with simple ingredients. This is for egg lovers who have gotten bored with egg omelet, curries etc. Also, it is a spice-less dish, so it is perfect for kids as well. It goes well with raita and papad.
If you try this recipe out, please hashtag your photos with #MozisMenu on Instagram and tag me with @MozisMenu. I love seeing your takes on my recipes!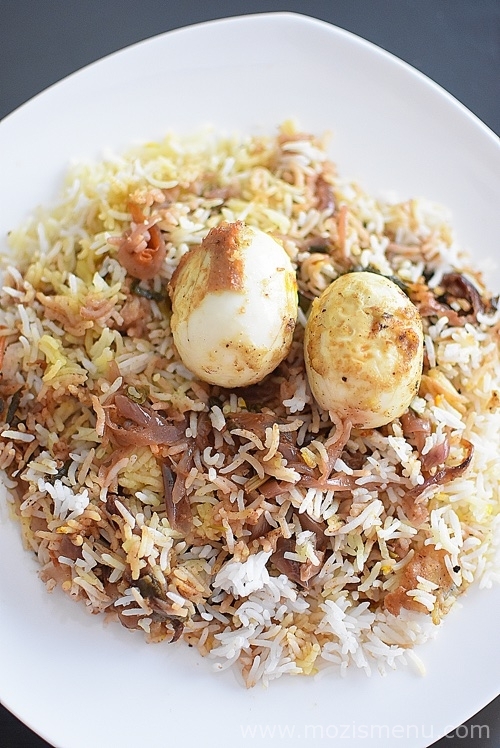 Ingredients
Onion – 3, Sliced
Tomato – 2, Sliced
Green chili -3, Chopped
Ginger garlic paste – 1 tbsp
Garam masala – 3/4 tsp
Lemon juice – 1 tbsp
Mint – 1/4 cup, Chopped
Coriander leaves (cilantro) – 1/4 cup, Chopped
Coconut oil – 1 tbsp
Ghee – 1/2  tbsp
Salt – to taste
Egg Masala
Egg – 5
Pepper powder – 1/2 tsp
Cumin powder – 1/4 tsp
Besan (Gram flour) – 1 tsp
Ginger garlic paste – 1/2 tsp
Egg – 1, Beaten
Salt – to taste
Oil – to fry
For Rice
Basmati Rice – 2 cups
Water – 3 cups
Cardamom – 2
Cinnamon stick – 1 small piece
Cloves – 3
Star anise – 1
Ghee – 1/2 tsp
Salt – to taste
Optional Ingredients
Milk – 2 tbsp
Saffron – Few strands
Ghee – 1/2 tsp
Directions
Clean and soak the rice in enough water for 15 minutes.
Hard boil the eggs and peel off the shell. Make 3-4 shallow slits on the egg (i.e. not too deep).

In a bowl, beat egg and add pepper powder, cumin powder, besan (gram flour), ginger garlic paste, and salt together. Coat the boiled eggs in this mixture and fry it.
Heat oil and ghee together, add onions and once it turns golden brown, add tomato and sauté for a couple of minutes.
Add ginger garlic paste, green chili and sauté until the raw smell goes away. Add mint leaves, garam masala, salt, lemon juice, and sauté it and finally, add coriander leaves (cilantro).
Boil water in a deep bottomed pan and add cardamom, cloves, cinnamon stick, ghee, and salt. Leave it for a minute, and add soaked and drained rice and close it with a lid. Cook the rice until it is half-cooked (as it will be fully cooked later when we do dum).
Soak a few saffron strands in 2 tbsp of hot milk till the milk color changes yellow.
Spread the rice over the masala and layer the egg on top. Sprinkle the saffron milk. Pour 1/2 tsp of ghee on top to enrich the flavor.
To make dum, close it with air tight lid or close it with a regular lid and place a weight on the top and keep the flame as low as possible to avoid burning and leave it on for 15 to 20 minutes.
Notes
Half-cook the rice in water, because when it gets dum, the rice may get overcooked and it will spoil the taste.
Don't add too much water while cooking the rice. Add the exact amount of water as mentioned above.
The ratio of rice to water should be 1 cup to 1.5 cups.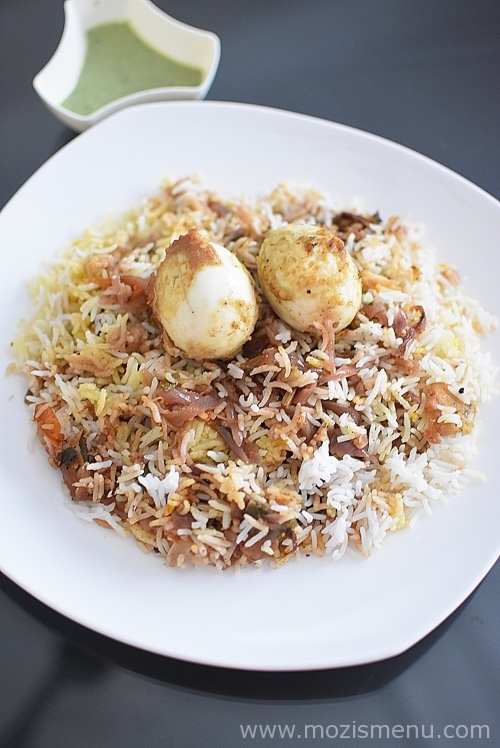 Summary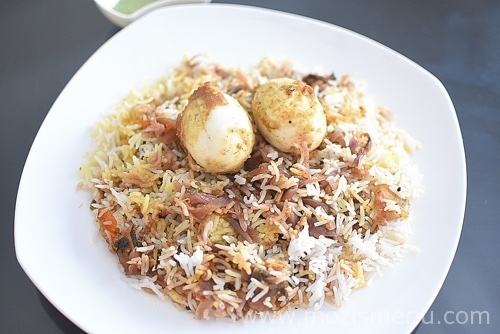 Recipe Name
Spiceless Egg Dum Biryani
Author Name
Published On
Preparation Time
Cook Time
Total Time
Average Rating





Based on 1 Review(s)